You know the saying: "What happens in Vegas…stays in Vegas".
Not this time. At Pathfinder, we like bucking trends. We're fresh from a week spent at the International Living conference in Las Vegas. And we're not burying what happened at the event. Instead, we're burning – to offer you some of the red-hot deals that attendees couldn't wait to get their hands on.
Large Lots with 15% Off, or Financing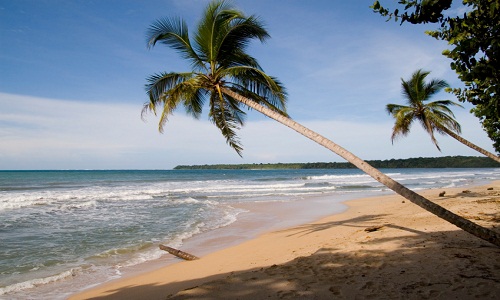 The hidden coast that nobody's heard of
It's tough at times for Gill Phelan. He travels to events…where he spends a chunk of time painting a picture of Costa Rica's Caribbean side…before he can get started on what makes his project, Grand View Estates, so special.
That's because conference attendees don't know anything about Costa Rica's Caribbean side. Once they see Gill's photos (sun-drenched beaches, wildlife-packed forest, and rushing waterfalls), they want more details. And once he's done with the natural beauty, he moves onto tourism growth (more tours, more cruise ships). Then it's the big economic news (a new free trade zone, and a $1 billion port concession deal, that will bring up to 10,000 new jobs). Finally, he's ready to talk about Grand View …and then he runs out of time.
It's a shame. Grand View offers an elevated setting of 640 acres, five waterfalls, two rivers and a ton of wildlife. It's 90 minutes from a big city, and 30 minutes to stunning beaches. The spacious lots run from one to three acres. And Gill's offering a 15% discount on lots in the newly-released phase 4. Or you can take advantage of a 10% discount- and finance over 10 years at 6% interest.
Contact Gill here to get a full information package.
Affordable Caribbean Island Living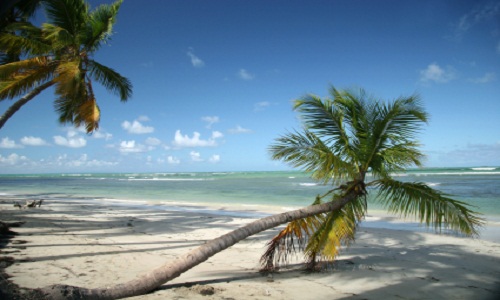 Caribbean island living…at a price you can afford
Toni Green's Vegas trip didn't include the gambling tables, or taking in a show. Instead, she fielded questions from the five-deep crowd round her table. They wanted more details on her home town, Las Terrenas. And they wanted to lock down their spot on her chill weekend tour there next month.
Toni and I did a presentation together at the Las Vegas conference, showcasing Las Terrenas. It's a chic beach town in the Dominican Republic. It boasts miles of unspoiled coastline, lined with coconut palms. Clear Caribbean waters lap the soft sandy beaches. It's a slice of paradise – with surprisingly affordable properties.
Toni showed us homes for less than $100,000, close to the beach. She spoke about a villa that throws off a 9% net rental yield. On the upper end of the scale, she presented a $1.59 million luxury beach house. It's pricey – but could cost $4 million on other Caribbean islands.
By the time attendees saw photos of the gorgeous beach house she's using to host her Las Terrenas chill weekend this November 18th-20th, they couldn't wait to sign up. Not all of them could make the trip, though, so a few spots remain. Find out here how you can take part – for only $325 – and discover this little Caribbean beach town for yourself.
The Best Combination of Beach and Forest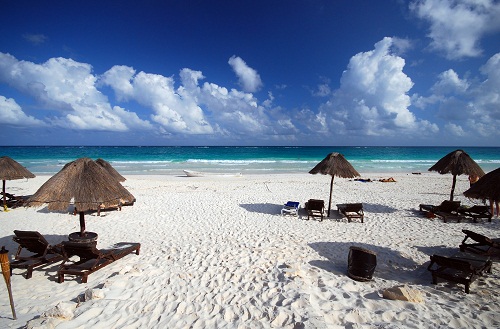 One of the world's top beaches – it's easy to see why
It tempted many attendees: The idea of stretching out in your own five-acre private kingdom, surrounded by trees, and twelve minutes from a breath-taking beach.
The beach in question, at Tulum, makes it to my top five beaches. It's a carpet of cool, powder-soft, pure white sand that contrasts nicely with the bright neon-turquoise sea. You won't see high-rises on this beach, or mammoth hotels. Instead, it's low-rise, low-key and eco-chic.
That vibe sits well with Los Arboles Tulum. This eco-friendly community lies twelve minutes from Tulum's beach. The development's 1200 acres include plenty of green space. And with only 221 five-acre home sites, you won't feel hemmed in or overlooked.
The Los Arboles team unveiled their new home and lot packages at the Las Vegas conference, with prices from $203,000. Attendees got to see the renders and floor plans – and a chance to savor the Los Arboles lifestyle, on a chill weekend, for $199. And you can too. Just click here and the Los Arboles team will send you a full information pack, and an invitation to come and visit.
I'm still buzzing from the Las Vegas conference. The deals offered by the real estate developers and brokers we work with got the attendees all worked up. I didn't want you to miss out on all the excitement. And the deals certainly prove that what happens in Vegas shouldn't always stay in Vegas. Sometimes what happens in Vegas is worth sharing.
Margaret Summerfield