We'd all Like to Be on the Beach
Soft white sand and clear turquoise water. Surf breaking gently on the reef offshore. Warm breezes rustling through the palm trees. A night sky that lights up with brilliant stars.
When it's winter up north the weather here is perfect. Mornings start fresh with temperatures in the mid-seventies. Perfect for long walks on the beach. In the afternoon it warms up to the eighties. Evenings are comfortable for al fresco dining.
A seven-figure budget buys you super-luxury here. I saw beachfront condos from the mid $500s. Comparing apples and apples though this is one of the best value Caribbean island locations I have visited.
Today I'm writing to tell you that even if your budget doesn't stretch to seven figures you can get a foothold in the Samana peninsula in the Dominican Republic.
A new road means that Las Terrenas, a chic little beach town on the peninsula, is now only an hour and forty five minutes from the Dominican Republic's capital city, Santo Domingo.
The views over the water are stunning as you approach Las Terrenas. Here, this is the Atlantic. But it looks picture-postcard Caribbean. Turquoise, light and dark blue waters shimmer in the sunshine.
Flights now come from North America to the international El Catey airport 25 minutes from town. I met folks who were toes in the sand at Las Terrenas less than four and a half hours from take-off in Toronto.
All the beaches here are public. Cafes, bars and restaurants sit right on the sand.
In this area there is a total of almost 19 miles of beach interrupted only by a couple of rocky points. It's all walkable. The beaches weave their way along the northern edges of the Samana peninsula. Each twist and turn opens up a more stunning vista.
When the first visitors came over the hills on donkeys a couple of decades ago all they found were fishermen's huts. Today, these huts are stylish French and Italian restaurants. You can get great coffee and gelato…pizza and lobster ravioli.
On the edge of town you'll find boutique hotels and restaurants where they serve freshly grilled seafood on the beach.
The French and Italians started coming here two decades ago. You'll also find other Europeans…Swiss and some Brits. This area has largely been overlooked by Americans. Canadians are coming now that they can fly direct to El Catey.
Today an estimated 8,000 expats live in Las Terrenas. Many have set up businesses providing services to each other and to tourists. They seem to be thriving.
This would be a great place to have a beach home. It's stunningly beautiful. And, if you want to rent your home when you aren't using it the rental market is strong.
If you have $4.5 million to spend you'll get a luxury home like this right on the beach: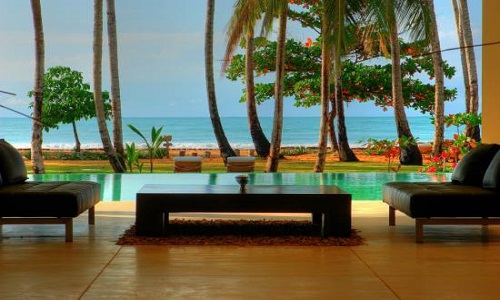 Of course, we'd all like to be right on the beach. But here it's not as important as in some other places. There's so much beach…and it's all public. You don't need to pay mega bucks to enjoy the beach life.
Casa Irene is a short stroll to town. It has two bedrooms and a private garden. It lists for $88,500.
And, you get to generate an income when you aren't using it.
It rents for $400 per week in high season. The owner has just accepted an offer of $600 per month for a six-month rental.
Traveling along the Samana peninsula the road from Las Terrenas winds its way through hills of rich green palm trees.
After a short 30-minute drive the bay opens up in front of us. Glass-flat and bright blue save for little boats introducing tourists to whales. They are here in numbers with their young this time of year. Beyond the boats the mainland's national park rises from the bay and frames the horizon.
Driving along the coast the views are jaw-dropping. Take a look at this beach at Las Galeras: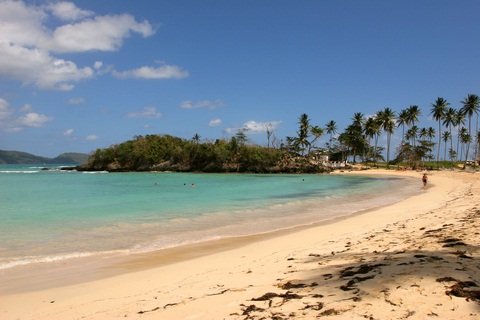 It's not surprising that it's ranked one of the world's top beaches.
From the deck of a new million-dollar home we watched whales play. Yet a few hundred meters away I saw this two-bed two-bath house built into the hillside on two levels: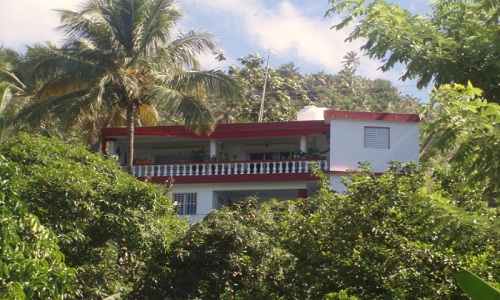 The price: $69,000.
Ronan McMahon
P.S. The Samana Peninsula is just one of the locations we'll cover during the International Real Estate Investment Forum this June 7th-9th, 2012. You can visit this area with fellow attendees before or after the event – we're less than a two hour drive from Las Terrenas. This event is the quickest and easiest way to get the inside track on profitable real estate investing overseas. We'll discuss locations where your overseas home can generate income when you're not using it yourself, places poised for capital appreciation, and hot spots where you can snap up a home for a fraction of what you'd have paid a few years ago. Plus, you'll get access to special deals and discounts.
We only have space for 150 attendees. I expect it will sell out before the early bird discount expires on May 2nd. Book now to lock down your seat and the early bird discount.