Rental Income, Sunset Mojitos and Dreamy Caribbean Living
On Wednesday, Margaret teased us with dreamy Caribbean living…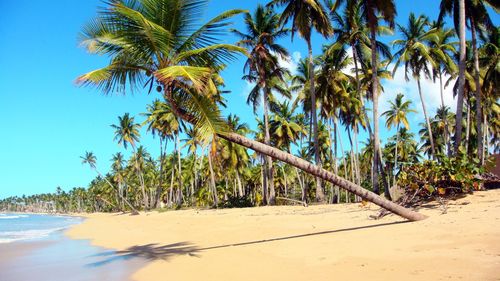 Las Terrenas in the sun-splashed Dominican Republic has picture-perfect beaches
A gentle stroll to stunning beaches and chilled bars and restaurants. Your own pool and deck in your back yard for those afternoons when the two hundred yard stroll to the beach is too much. I could almost feel the warm Caribbean breezes on my face.
The home had 2,367 square feet of space including an open-plan kitchen and living area that opens onto a large terrace and the pool…perfect for entertaining. Three bedrooms and bathrooms in the main house, and a guest house by the pool is where friends and in-laws could stay. Best of all, we are told that the current owner generated $25,580 last year in net rental income. That's a yield of almost 9% on the asking price.
This sounds like it might be just the thing if you're looking to generate some income when you aren't using your dream Caribbean home. Or, maybe you want to get a foothold here now and accumulate some cash for those sunset mojitos in your future.
This looks like an interesting rental to me. But if you're going to rent your property out, you want to maximize its rental potential. Here's how you do that…
Firstly, you should buy low. The price you pay for your home determines your rental yield (gross yield is simply the annual rent, divided by the property price). You factor in running costs (maintenance, monthly fees, taxes) to get the net yield. The less you pay for your property, the higher the yield. It's that simple. This is where fire sales and distressed properties come into their own. You'll pay less for these properties than your neighbor…and command similar rent levels.
The layout of the Caribbean home Margaret wrote about on Wednesday will have broad appeal. Perfect for families, groups of friends or retirees who would like space for visitors. You could rent to families and groups of friends by the week in high season and rent by the month at a lower rate to retirees in the off season.
The guest accommodation means that you could have help onsite if you and your friends would like the luxury of letting someone else do the dishes, laundry and make those supermarket runs. This house would have much broader rental appeal than a condo in a similar price bracket.
So far so good. But, you are only getting started. If this ticks your boxes you need to get started on your due diligence.
You have been told that the net rental income is $25,580. How can you make sure that you're comfortable that this is correct? This can be tricky as there might not be a paper trail. But you can start by finding out how much similar homes in the neighborhood rent for in high and low season.
Then you need to figure out what occupancy you can expect. The only reliable way to do that is to ask as many landlords as you can find. Knock on neighbors' doors. Talk to the local barman and restaurateur. Ask around. Then, get up the next morning and do the same. A picture of the occupancy you can expect will emerge.
You can also look at websites like VRBO.com that show rental prices and when they are available. You could assume that when they aren't available they are rented…giving you a guesstimate of occupancy rates. Of course this isn't reliable, as the owner may have blocked their home for themselves. But this is all information that can help you form a picture.
You can also check local hotel occupancy rates. Your short-term rental won't do so well if it faces competition from thousands of hotel rooms in the same area, with hoteliers slashing prices in the lean years and throwing in free nights, free meals, or free drinks. For long-term rentals, your competition is other rental condos and houses.
In Las Terrenas, where the house is located, you won't face competition from thousands of high-rise condos, or bargain-basement all-inclusive hotels…because there aren't any.
Now, most people don't bother with all this work. (I must admit I find it great fun.) That means that you are at a serious advantage if you do make the effort. This is a front- loaded investment: You do it now but you reap the rewards well into the future.
Next, you need to figure out how the home is to be advertised and managed. Are you happy to stick with the existing rental manager? What are the costs and are you confident they will maintain their performance?
Finally, you need to run the numbers on the cost side. What are the outgoings – rental management, property taxes, HOA fees, etc. Check the condition of the property. Does it need an overhaul? Is the roof in good shape…will the pool need refurbishing in the next few months? You need to make a contingency fund for these big expense items. And of course check that your building is structurally sound. Remember: You don't get white Caribbean sand and turquoise water like this without hurricane risk.
Now, you should have enough information to decide if this (or any other) opportunity is for you.
Finally, be very clear on whether this is a pure investment or whether you are looking for your Caribbean home with some income. If you are only considering this as an investment you need to remove that feeling of powder sand between your toes from your analysis. If this is a place you will spend time, include a section in your spreadsheet for this…and those warm breezes…and cocktails at sunset.
Ronan McMahon
P.S. You're invited to join our first chill weekend in the Dominican Republic this November 18th-20th. You'll stay in a gorgeous beachfront home, spend time getting to know Las Terrenas…explore the stunning beaches …and see a range of properties to suit all budgets. Local real estate agent Toni Green is running the trip. You can contact her here to lock down your spot.