Don't Miss It: Lake, Beach & Ocean-View Bargains
February's best deals include a lake-view condo for $75,000…bargain beach properties that you can check out yourself on a real estate tour…and a luxury home in a stunning setting with amazing ocean views.
Read on to find out more.
Large Lake-View Condo for $75,000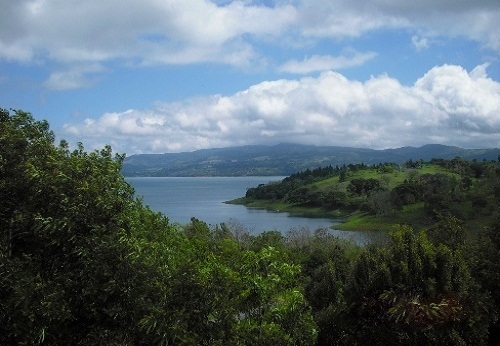 A three bed condo with this lake view, for $75,000
This location ticks all the right boxes. It's in a safe, stable country that's easy to get to. It's got a beautiful landscape with a huge lake, mountains and forests, and a majestic volcano. It's got good access, a comfortable climate year-round and a welcoming expat community. But for some reason, this little gem is undiscovered and unappreciated. The tourist trail ends 45 minutes down the road.
That's a shame for those tourists. They don't know what they're missing. But it's a huge plus for us, because it means that property prices here are still incredibly good value. Like this lake-view condo.
It's in a small complex that sits alongside a country club with tennis courts, a swimming pool and a gym. It's walking distance to a small village. It's around 2000 square feet, with three bedrooms and three bathrooms. It comes with huge lake views – and a tiny price tag of $75,000.
To get a full information package, click here.
Don't Take my Word for It – See these Beach Bargains for Yourself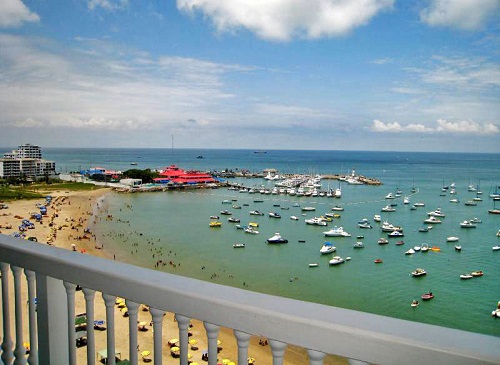 You can enjoy views like this – without breaking the bank…
Ecuador's the world's top retirement haven, and it's easy to see why. It boasts a low cost of living and a slew of retiree benefits.
And some seriously low property prices.
In fact, a second home on Ecuador's Pacific coast will cost less than half the price of a similar property in Panama or Costa Rica –and a fraction of the cost of a similar home in California.
True, Ecuador's southern Pacific coastline isn't as developed as southern California's. But the beaches and deep-blue Pacific certainly look very similar…
There is one huge difference. But it's a good one: property prices.
On Ecuador's southern Pacific, you can buy a remodel-ready condo, with 1700 square feet of living space, for $80,000. It's across the street from the beach, and close to restaurants and shopping.
A four-bed beach house with a pool in an exclusive beach community will set you back $107,500.
A double condo (two units that you can combine or use separately) right on the boardwalk in a busy beach resort, comes with stunning beach and ocean views – and a price tag of $294,000.
To see just how good the bargains are on Ecuador's South Pacific, why not see them first-hand?  And here's the perfect opportunity: a Pacific coast real estate tour this May 1st – 5th. Only 24 readers can take part, so don't delay. This tour will fill up quickly. Fill this form in and you'll get an itinerary and full details on how to reserve your spot.
Stunning Ocean Views and a Luxury House for $112 a Square Foot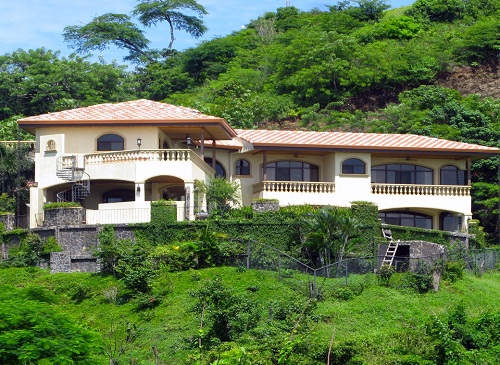 This home boasts stunning ocean views, and a convenient setting that's hard to beat
You couldn't get much more convenient than this place. It's 20 minutes from an international airport. Twenty minutes from a world-class hospital that's under construction right now. Twenty minutes from golf and beautiful beaches. Ten minutes from a little beach town with supermarkets, restaurants, cafes, bars, banks and an ice-cream store.
It's in an upscale private community with an equestrian center, gym, pool and social area. Surrounded by sharp forest-covered mountains, it's the kind of place where you'll see toucans, sloths and monkeys. And the ocean views from the elevated points in this community are nothing short of spectacular.
This 8000 square-foot home is incredible. It's luxurious, with a swimming pool, sundeck with hot tub, outdoors kitchen and dining area. Inside, you'll find an indoor koi pond, a gourmet kitchen, and five bedroom suites with spacious ocean-view terraces. And what views! They sweep out across the Pacific Ocean, a peninsula (dotted with little islands) and a national park. It feels so secluded it's hard to believe you're so close to amenities and the airport.
The price point of $895,000 breaks down to $112 per square foot. That's an amazing price for a house of this quality in a stunning setting.
To get a complete information package, go here.
Make sure you don't miss out on these exciting offers. Contact the real estate agents today… and start the countdown to your new life overseas.
Margaret